The ward in which this exhibition is located remains approximately in the same condition in which the police abandoned it in 2002 and in which the group »Faites votre jeu!« found it seven years later, back in April 2009. The cells give an impression of how immigration detention and police custody were carried out at Klapperfeld until its closure.
Originally, this ward was planned as a men's unit. From witnesses and some of the inscriptions we know that indeed most – but not all – detainees were men. Although persons who identified as female were also held in custody and immigration detention at Klapperfeld, witnesses report that most of the time the personnel consisted exclusively of men.
The wing open to the public for this exhibition consists of 16 single cells, 2 group cells and three other rooms which probably were used as staff rooms. Single cells measure 1.5m x 3.5m and are equipped with a cast-iron plank bed, a folding table and a seat mounted into the wall, a washbasin, a toilet and a metal mirror. During the hours of 9 am to 5:30 pm, group cells served as a day room for the detainees from that floor. Sometimes, they were also used to take larger groups into custody (e.g. after demonstrations). In periods of overcrowding those group cells could be transformed into dormitories.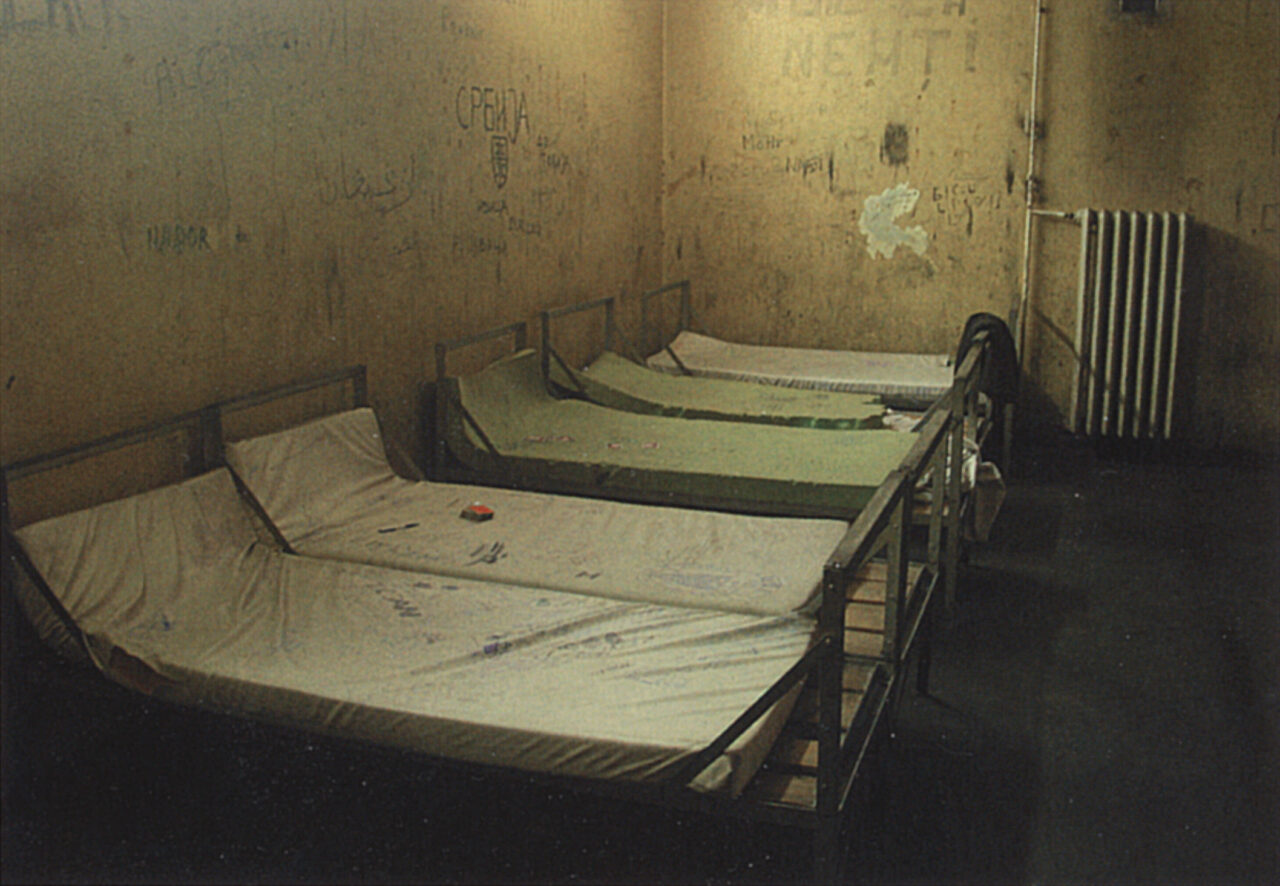 Showers were located in the basement and – according to one inscription – could only be used three times a week. After 5:30 pm, detainees were locked into their cells. There was no call system so that in case of an emergency the detainees' only option was to attract attention by banging on the cell doors or shouting.
Conditions in Klapperfeld were an object of criticism long before its closure in 2002. In 1984, a delegation of members of the Green Party from the Hessian Parliament visited Klapperfeld. The local newspaper Abendpost/Nachtausgabe reported: »At the end of their tour the Greens summed up: ›We are shocked.‹ Narrow and out-dated single cells, hardly wide enough to move inside. Small windows everywhere allowing little light into the building. […] There is nothing to read. For four weeks, there had been no yard exercises because door locks were being replaced. In the [group] cell there are no seats. A dustbin, a toilet in the corner, nothing else.«
These conditions hit people in immigration detention particularly hard, as – in contrast to people who were taken into temporary police custody – immigration detention was not limited to 24 hours. It seems that most of the time the length of detention did not exceed 2 weeks. However, the inscriptions also document several cases where people were detained for several months before being deported.
Despite the long duration of some detentions, there were no social services, interpreters and barely any access to books, magazines or other ways of distraction. As a result, the "Initiativausschuss ausländischer Mitbürger in Hessen" [Committee of fellow foreign citizens in Hesse] established a voluntary visiting service which ran from 1984 until 1991. Their members tried to administer writing utensils, paper and books in different languages to the people in detention, assisted them in communicating with their friends and relatives, and in finding out information on the impending deportation.
According to the newspaper Frankfurter Allgemeine Zeitung, minor renovations were carried out in 1995. Obviously, cells and furniture on this floor were barely included in the maintenance works as evidenced by the inscriptions which cover a period from 1955 to 2002. Even the conditions that were criticised by the Greens back in 1984 hardly changed until the complete closure of the premises: In December 2000 the European Committee for the Prevention of Torture and Inhuman or Degrading Treatment or Punishment visited Klapperfeld. Its following report stated that the cells were dirty, poorly lit and ventilated and that heating was inadequate. Furthermore, detainees had too few options for outdoor exercises and rarely had access to health care staff.
In 2002, the police prison Klapperfeld was closed and temporary police custody was subsequently carried out in the newly opened police headquaters at Adickesallee. Detention was carried out in the immigration detention centre in Offenbach and, following its closure, in the prison in Frankfurt Preungesheim. Since July 2014, immigration detention is only allowed in centres serving only that particular purpose. In Hesse there has been a deportation prison in Darmstadt-Eberstadt, about 40 km south of Frankfurt, since 2018. Its capacity has quadrupled from 20 to 80 places by the beginning of 2021.